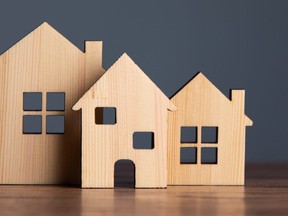 Article content
There have been a few columns of mine over the past few years that have really seemed to activate people and served to drive some feel-good emails straight into my inbox.
Article content
The time I wrote about the Yonge Street bike lanes was a fun one.
Who could have predicted that the lane-loving cyclists, incensed at my admittedly subjective opinion that the bike lanes on Yonge were, you know, terrible, would feel compelled to send me a note wishing my kids "run over by those cars I love so much."
While that one probably takes the prize, since then I have received some real zingers, softened slightly, I would imagine, by the lucky fact that most people glance at my name and assume I am a man.
And for the most part I get it — Toronto real estate is brutal, almost intolerably so over the past two years of the pandemic.
This market has been wacko with prices defying logic.
We have widely adopted market conventions such as bidding blind and underpricing for multiple offers that leave buyers never sure of where they stand.
Article content
Affordability? What does that even mean anymore?
And, of course, underscoring all of this is the near-religious belief in the idea that it's OK to leave it all on the dance floor and spend every penny the bank will give you because real estate will only ever go up, up, and … up.
The love notes in my inbox are certainly not helped by the inescapable reality that there are few people as widely reviled as real estate agents.
Forget the fact that we are currently mired up in a confluence of factors that have gotten us here.
Lax monetary and lending policy, with two years of free money flooding the economy.
The financialization of housing where real estate investment trusts are absolutely gobbling up residential housing while marketing themselves as benevolent heroes solving the housing crisis while every other person you meet feels the need to own an investment property.
Article content
How about the fact that Canadian real estate has been identified by international watchdogs as an absolute haven for global money laundering? It even has a name: "snow washing."
We talk about the lack of supply driving the fierce competition in the market today, but do we think we would be anywhere close to where we now find ourselves without those factors adding fuel to the fire?
It's complicated and nuanced, but most would agree that on the most fundamental of levels there is something very wrong when the majority of people starting out will simply never be able afford to own a home, let alone in the city or province of their choosing.
And now, as all signs point to a sharp market correction underway, no one knows how long it will last or where the bottom could be.
Article content
Now anger meets fear.
And all the while there are cringey agents all over social media posting videos of themselves, none-too-subtly flexing their fancy cars and conspicuous consumption, declaring "now, now, now" as the best time to buy. It's unclear if they are simply unaware of the shifting market or if it's possible that they're just in complete denial, but of course it's easy to think it's their greed talking.
So again, I get it.
LACKIE: Real estate through Netflix lens a far cry from reality

LACKIE: Choppy waters ahead for GTA real estate market

LACKIE: More transparency would improve trust in real estate industry
But please also accept that when people like me are asked to analyze monthly sales figures and write about trends in the marketplace, all we can do is relay what we can see happening in real time and offer up our perspective on what may be yet to come. You can then throw that into the hopper and formulate your own opinion.
And if you disagree, by all means, feel free to slide into my DMs to tell me I'm an idiot. But please trust me when I tell you that that angry energy would be infinitely more powerful if you harnessed and directed it at the politicians who got us here.
On Twitter: @brynnlackie